ORTHODONTIC TREATMENTS (BRACES)
Correction of various alignment disorders/malocclusion of the teeth by way of their actual physical movement is known as Orthodontic treatment. Orthodontic treatment case can take from 6 months to 2 years for completion depending upon the condition & treatment modality choosen.
Orthodontics covers the treatment of mal positioned teeth and jaw. Crooked teeth are not easy to brush on and can result in tooth decay, cavities, chewing problems, extra stress on chewing muscles etc. These multiple problems if not treated timely can become more severe. Orthodontics treatments in Delhi can be provided by many dental clinics but Dentesthica takes special care of its clients and gives them full comfort and satisfaction while providing them best orthodontics treatment.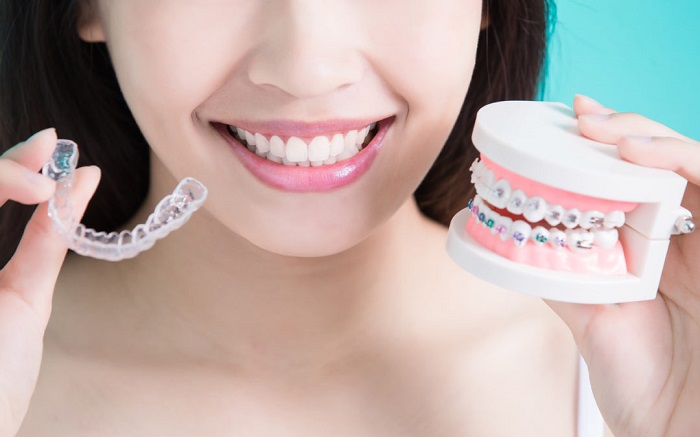 Dentesthica dental health clinic is the provider of best Orthodontics treatment in Delhi. We provide multiple dental health treatments to our clients based on their special needs after thorough check up and find out the problem professionally. Dentesthica provides dental services like conventional braces, lingual braces that are fixed to the back of your teeth, clear aligners that aligns your teeth without screws or brackets, orthodontic expansion plates, orthodontic retainers, surgical orthodontics/orthognathic surgery etc.
Dentesthica follows all modern techniques to find out the exact problem with your teeth and provide solutions accordingly. Because of our expertise and guest satisfaction in dealing with orthodontics we are considered providers of best Orthodontics Treatment in South Delhi and Greater Kailash, Delhi.
A Person With Any One Or All Of The Following Issues/Problems Is A Candidate For Orthodontic Treatment :
Overbite upper front teeth lying far forward over the lower teeth. 
Underbite —lower teeth are visible whereas upper front teeth remain hidden.
Crossbite — When there is problem in biting something because upper teeth are not aligning with the lower teeth.
Open bite —when there is a space between the biting surfaces of the front teeth when the back teeth bite together.
Misplaced midline— Centre of upper teeth not aligning with its lower counterpart.
Spacing — gaps, or spaces, between the teeth because of missing/broken teeth .
Crowding — Too many teeth than the normal teeth crowding the whole oral region.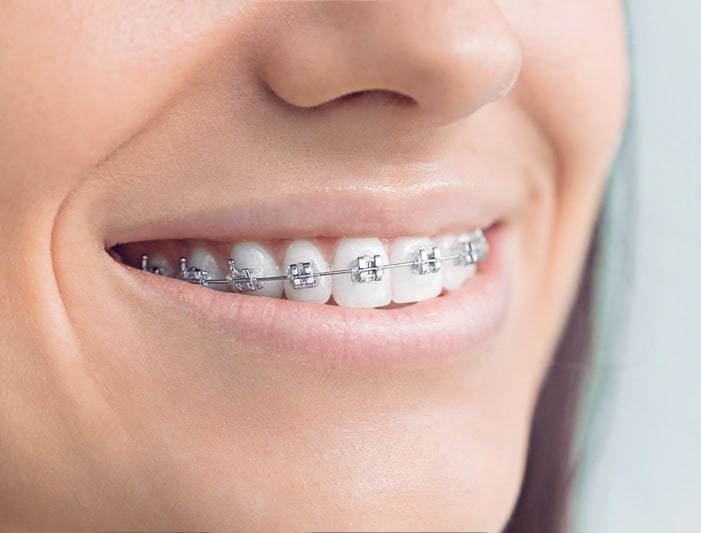 Most common type of fixed dental appliances that remain visible
They fit behind the teeth hence are not visible like conventional braces these are a special kind of braces that work behind the teeth. They are designed so as to bond to the back of your teeth, leaving the front of your smile entirely untouched.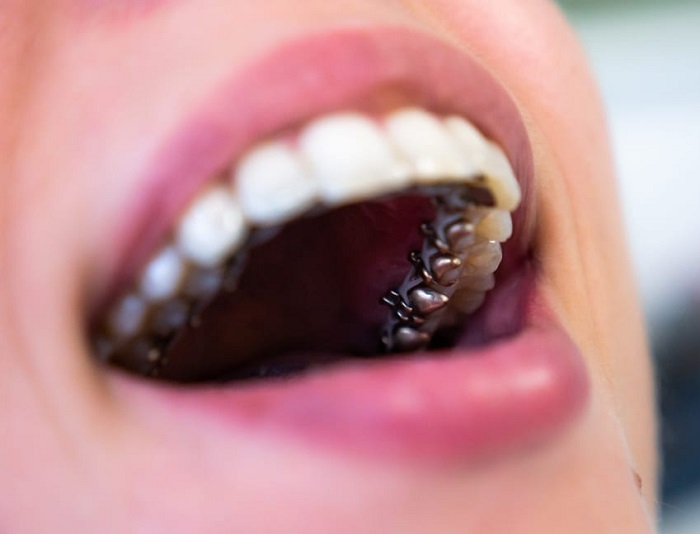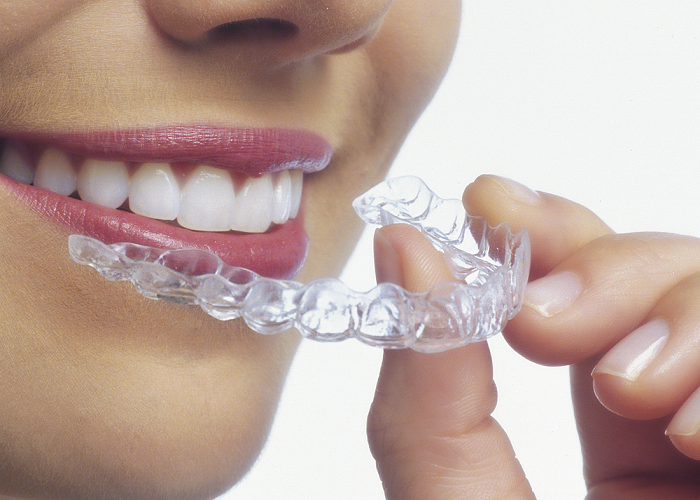 The Magic Of Invisible Braces – 
It was never so comfortable and convenient to wear braces. With advancement in material used & techniques used in orthodontic treatments, it can be completed in a very short span of time, without anyone knowing about it. Now it's a past of having ugly metallic braces which had to be worn for years.
WHAT ARE INVISIBLE BRACES?
Clear aligners or Invisible braces are very thin almost like wafers. Clear aligners fit snugly on your teeth and gently move them in place to give you a perfect smile that boost your confidence. They offer you all the benefits of conventional orthodontics without the inconvenience of having to wear WHY ARE INVISIBLE BRACES BETTER?
Invisible braces are fabricated as per your size & shape of teeth by using the latest digital mapping and molding technology.
As the name suggests it's invisible to others so no one will know that you are undergoing orthodontic treatment for your teeth. It's a type of removable thing that you can remove aligners while eating, drinking and brushing as per your convenience.These type of braces are so comfortable that it doesn't irritate your gums or cheeks.
It's having an edge over the conventional braces as short treatment time about 4 to 12 months are required as per the case/condition and shows more accurate results.
For the International patients one visit of 2-3 days is required and after that, the aligners are delivered to your address from time to time so that without visiting to the clinic treatment can continue comfortably from the comfort of your home.
Ceramic braces also known as clear braces, used to straighten teeth and fix bite problems or problems associated with malalignment of teeth. They consist of tooth-colored ceramic brackets attached to the surface of your teeth with similarly colored wires and elastic bands, which provide more discretion.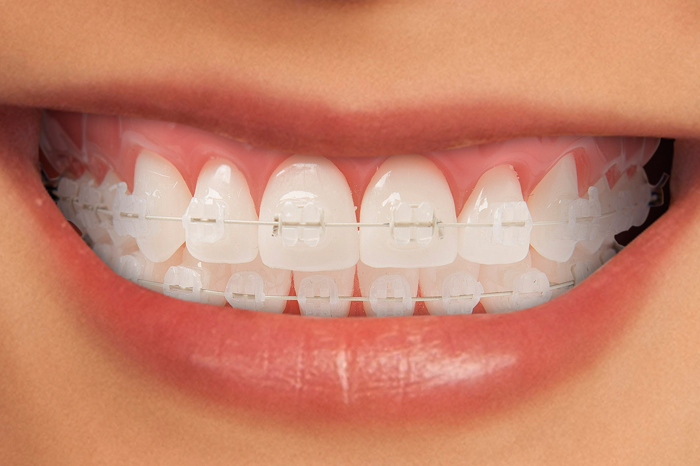 Since the amount of time required to fix the problems with your teeth using either ceramic braces or metal braces is the same, the only difference between the two orthodontic treatment modalities is that one is having metal brackets & wires and the other is having ceramic brackets & similar color wire. In simple words ceramic braces are better in appearance as having tooth colored brackets so gives better esthetic look as compare to metal ones.
Orthodontic retainers –After braces have been removed a removable/fixed retainer helps teeth in maintaining their new position
Orthodontic surgery/Orthognathic Surgery – treatment to correct bite and change whole facial and oral region
The Dentesthica Advantage
Dentesthica is having esteemed panel of experienced orthodontists selected after thorough scrutiny. We believe that our patients should be in right hands from the beginning as our patients are investing their considerable amount of time for such treatments, so it's essential & our priority that you are in the hands of experts from the beginning.