TYPES OF CROWNS CAN BE USE WITH IMPLANTS
Porcelain fused to metal crown/bridge (Cementation)
Porcelain fused to metal crown/bridge (Screw retained)
Zirconia metal free Crowns.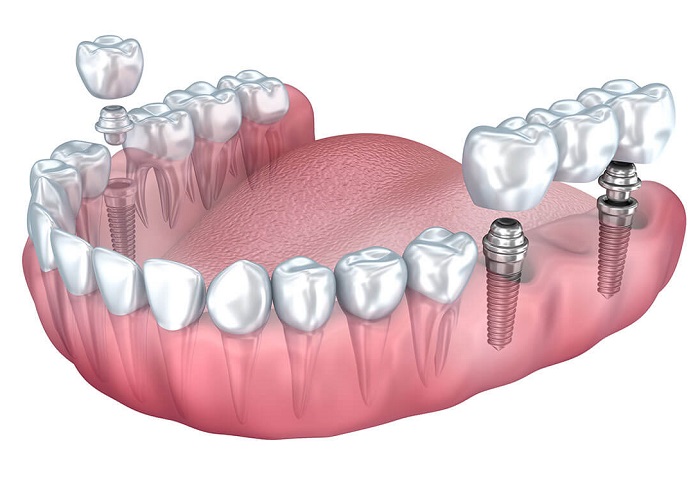 CROWN AND BRIDGES ON IMPLANTS
A single missing tooth can replaced with an implant above which crown which is fixed. Implant placement is a minor surgical procedure done under local anesthesia in a dental operatory. After the implant placement, osseointegration begins i.e. the association or union of dental implant with the surrounding bone. This process, can take several months, typically from 4-6 months depending on the bone quality and density.
When implants gets Osseo integrated the head of the implant is exposed and an impression is recorded. The impression is sent to a laboratory and a crown is fabricated. As per the choice of patient & area where prosthesis has to be given, a crown is fabricated i.e. either by metal- free lithium di-silicate or zirconia crown or PFM (porcelain fused to metal) crown. When more than one teeth is missing, then either joined crowns/ or a bridge is made with the help of implants.
 We generally recommend a second visit to us after at least in a gap of 4-6 months as advised at the time of implant placement. But if the quality & quantity of bone along with other systemic conditions are fine, we can go for IMMEDIATE LOADING with Crowns during the same visit with a gap of 7-10 days from the visit of implant placement.
We at Dentesthica believes in providing best dental implants treatment in South Delhi. Our Implantologist is highly experienced in painless successful implant surgical procedures.